Exam Instructions
 ONLINE END SEMESTER EXAMINATION JULY 2021
FROM 10:00 AM to 1:00 PM
MA ENGLISH 2nd SEM
DATE
DAY
PAPER CODE
PAPER NAME

19-July-2021

MONDAY

MAEN 201

Poetry -II English Poetry from pre-Romantic to the Victorians

21-July-2021

WEDNESDAY

MAEN 202

Drama -II Drama from 20th Century

23- July-2021

FRIDAY

MAEN 203

Fiction -II 20th Century English Fiction

26-July-2021

MONDAY

MAEN 204

Indian Writing in English

28-July-2021

WEDNESDAY

MAEN 205

Linguistics and Language Teaching -II
  MA HISTORY  2nd  SEM
DATE
DAY
PAPER CODE
PAPER NAME

19-July-2021

MONDAY

MAHIS -201

Colonialism and Nationalism in South East Asia

21-July-2021

WEDNESDAY

MAHIS -202

History USA (1865-1945)

23-July-2021

FRIDAY

MAHIS -203

Constitutional Development in India (1757-1950)

26-July-2021

MONDAY

MAHIS -204

Colonial Economy (1765-1939)

28-July-2021

WEDNESDAY

MAHIS -205

Indian National Movement (1857-1919)
MA GEOGRAPHY 2nd  SEM
DATE
DAY
PAPER CODE
PAPER NAME

19-July-2021

MONDAY

MAGEO – 201

BIOGEOGRAPHY

21-July-2021

WEDNESDAY

MAGEO – 202

SETTLEMENT GEOGRAPHY

23-July-2021

FRIDAY

MAGEO – 203

ECONOMIC GEOGRAPHY

26-July-2021

MONDAY

MAGEO – 204

POPULATION GEOGRAPHY

28-July-2021

WEDNESDAY

MAGEO – 205P

QUANTITATIVE TECHNIQUES AND COMPUTER APPLICATION
 MA SOCIOLOGY 2nd  SEM
DATE
DAY
PAPER CODE
PAPER NAME

19-July-2021

MONDAY

MASO-201

Theoretical Perspectives in Sociology

21-July-2021

WEDNESDAY

MASO-202

Contemporary Sociological Thinkers

23-July-2021

FRIDAY

MASO-203

Sociology of Kinship, Family & Marriage

26-July-2021

MONDAY

MASO-204

Data Analysis and Social Statistics

28-July-2021

WEDNESDAY

MASO-205

Population Problems and Policies
  MA POLITICAL SCIENCE  2nd SEM
DATE
DAY
PAPER CODE
PAPER NAME

19-July-2021

MONDAY

MAPS-201

Contemporary Political Thought

21-July-2021

WEDNESDAY

MAPS-202

Contemporary International Relations

23-July-2021

FRIDAY

MAPS-203

Dynamics of Indian Politics – II

26-July-2021

MONDAY

MAPS-204

Politics in Arunachal Pradesh

28-July-2021

WEDNESDAY

MAPS-205

Indian Foreign Policy
M.COM  2nd SEM
DATE
DAY
PAPER CODE
PAPER NAME

19-July-2021

MONDAY

MC-201

Financial Management

21-July-2021

WEDNESDAY

MC-202

Human Resource Management

23-July-2021

FRIDAY

MC-203

Marketing Management

26-July-2021

MONDAY

MC-204

Accounting Practices and Reporting

28-July-2021

WEDNESDAY

MC-205

E- Commerce
  LLB 4th SEM

DATE

DAY

PAPER CODE

PAPER NAME

19-July-2021

MONDAY

LLB -401

Alternative Dispute Resolution

21-July-2021

WEDNESDAY

LLB -402

Law of Contaract II

23-July-2021

FRIDAY

LLB -403

Intellectual Property Law

26-July-2021

MONDAY

LLB -404

Criminal Procedure Code

28-July-2021

WEDNESDAY

LLB -405

Indian Evidence Act
  BA SOCIOLOGY 2nd SEM
DATE
DAY
PAPER CODE
PAPER NAME

19-July-2021

MONDAY

BSH -201

English Communication

21-July-2021

WEDNESDAY

BSH -202

Classical Sociological Thinkers – I

23-July-2021

FRIDAY

BSH -203

Sociology of India -II

26-July-2021

MONDAY

BSH -204

Marriage, Family and Kinship
  BA POLITICAL SCIENCE  2nd SEM
DATE
DAY
PAPER CODE
PAPER NAME

19-July-2021

MONDAY

BPSH-201

English Communication

21-July-2021

WEDNESDAY

BPSH-202

Political Theory -II

23-July-2021

FRIDAY

BPSH-203

Indian Political System

26-July-2021

MONDAY

BPSH-204

Contemporary Political Economy
BBA 4th SEM
DATE
DAY
PAPER CODE
PAPER NAME

19-July-2021

MONDAY

BBA-401

CONSUMER BEHAVIOUR

21-July-2021

WEDNESDAY

BBA-402

HUMAN RESOURCE MANAGEMENT

23-July-2021

FRIDAY

BBA-403

BUSINESS RESEARCH METHODS

26-July-2021

MONDAY

BBA-404

SERVICES MANAGEMENT
BBA 6th SEM
DATE
DAY
PAPER CODE
PAPER NAME

19-July-2021

MONDAY

BBA-601

TAXATION LAWS

21-July-2021

WEDNESDAY

BBA-602

INVESTMENT ANALYSIS AND PORTFOLIO MANAGEMENT

23-July-2021

FRIDAY

BBA-603

BUSINESS ANALYSIS AND VALUATION
BCA 4th SEM
DATE
DAY
PAPER CODE
PAPER NAME

19-July-2021

MONDAY

BCA-401

INTERNET AND E-COMMERCE

21-July-2021

WEDNESDAY

BCA-402

COMPUTER GRAPHICS AND MULTIMEDIA

23-July-2021

FRIDAY

BCA-403

SYSTEM SOFTWARE

26-July-2021

MONDAY

BCA-404

ICT HARDWARE

28-July-2021

WEDNESDAY

BCA-405

ALGORITHM DESIGN
BCA 6th SEM

DATE
DAY
PAPER CODE
PAPER NAME

19-July-2021

MONDAY

BCA-601

SYSTEM AND NETWORK AD,MINISTRATION

21-July-2021

WEDNESDAY

BCA-602

ARTIFICIAL INTELLEGNCE 
MBA 2nd SEM

DATE
DAY
PAPER CODE
PAPER NAME

19-July-2021

MONDAY

MBA-201

ENTREPRENEURSHIP DEVELOPMENT

21-July-2021

WEDNESDAY

MBA-202

HUMAN RESOURCE MANAGEMENT

23-July-2021

FRIDAY

MBA-203

FINANCIAL MANAGEMENT

26-July-2021

MONDAY

MBA-204

OPERATIONS MANAGEMENT

28-July-2021

WEDNESDAY

MBA-205

RESEARCH METHODOLOGY

30-July-2021

FRIDAY

MBA-206

QUANTITATIVE TECHNIQUES
MBA 4th SEM

DATE
DAY
PAPER CODE
PAPER NAME

19-July-2021

MONDAY

MBA-MM-401

Advertising and Sales Promotion

21-July-2021

WEDNESDAY

MBA-FI-401

Capital Investment and Financial Decisions

23-July-2021

FRIDAY

MBA – HR – 401

Human Resource Development

26-July-2021

MONDAY

MBA-MM-402

Services Marketing

28-July-2021

WEDNESDAY

MBA-FI-402

Corporate Taxation

30-July-2021

FRIDAY

MBA – HR – 402

Performance Compensation Management

02-August-2021

MONDAY

MBA-MM-403

International Marketing

04-August-2021

WEDNESDAY

MBA-FI-403

International Finance

06-August-2021

FRIDAY

MBA – HR – 403

International HRM
Instructions for online Exam for  Final Year/Semester
Visit the University website "www.arunodayauniversity.ac.in"
Click on 'Student corner' then Click on 'My Test'

Read all the instruction and Formats carefully and confirm that you have understood them.

List of Question papers (in PDF Format) will appear on screen, Select your question paper of the day and download it/print it/or take screen shot.

The total duration of paper is 3 hours which includes time for downloading / Writing / Scanning and uploading or E-mailing of your answer sheet.

The question paper consists of 3 sections A, B and C. All sections are compulsory.

Each descriptive answer must be written originally in terms of style and content.

Students have to write their answers in A4 size White coloured plain paper only. You can draw margins by using light pencil.
All answers should be written by using 'Blue' ball pen only and the handwriting on Answer-Sheet should be same.
Cover page must be as per given format and must contain all the details.
Students have to write their Roll No. and put signature at the top of each pages along with page no. (Refer Format)
After completing all answers mention : '————-The End—————'
All pages of your Answer Sheet should be Scanned by using good quality mobile camera/scanner. You can use scanner apps such as Bharat Scanner/Office lens/Scan it etc.
All written pages of your Answer-Sheet should be saved in single PDF file which you have to email.

The maximum number of pages allowed in an answer script for uploading/ emailing against each paper shall not exceed 15 under any circumstances.

Your Answer-sheet file after scanning must be named as per following format.
Course name(Space)Date of Exam(Space)Your name.
                                 e.g. MA-History 15-9-2020 Sanjaykumar
Note:  1. The Answer-sheet of student not received on time and without above mentioned file name format will not be accept for Evaluation.
No Changes will be accepted in Answer Sheet once students has written and emailed it.

The hard Copy of the Original Answer Sheet should be maintained Properly and Submitted at Office by last date of Exam.
****************
(Format for Cover/Front Page: All details must be filled)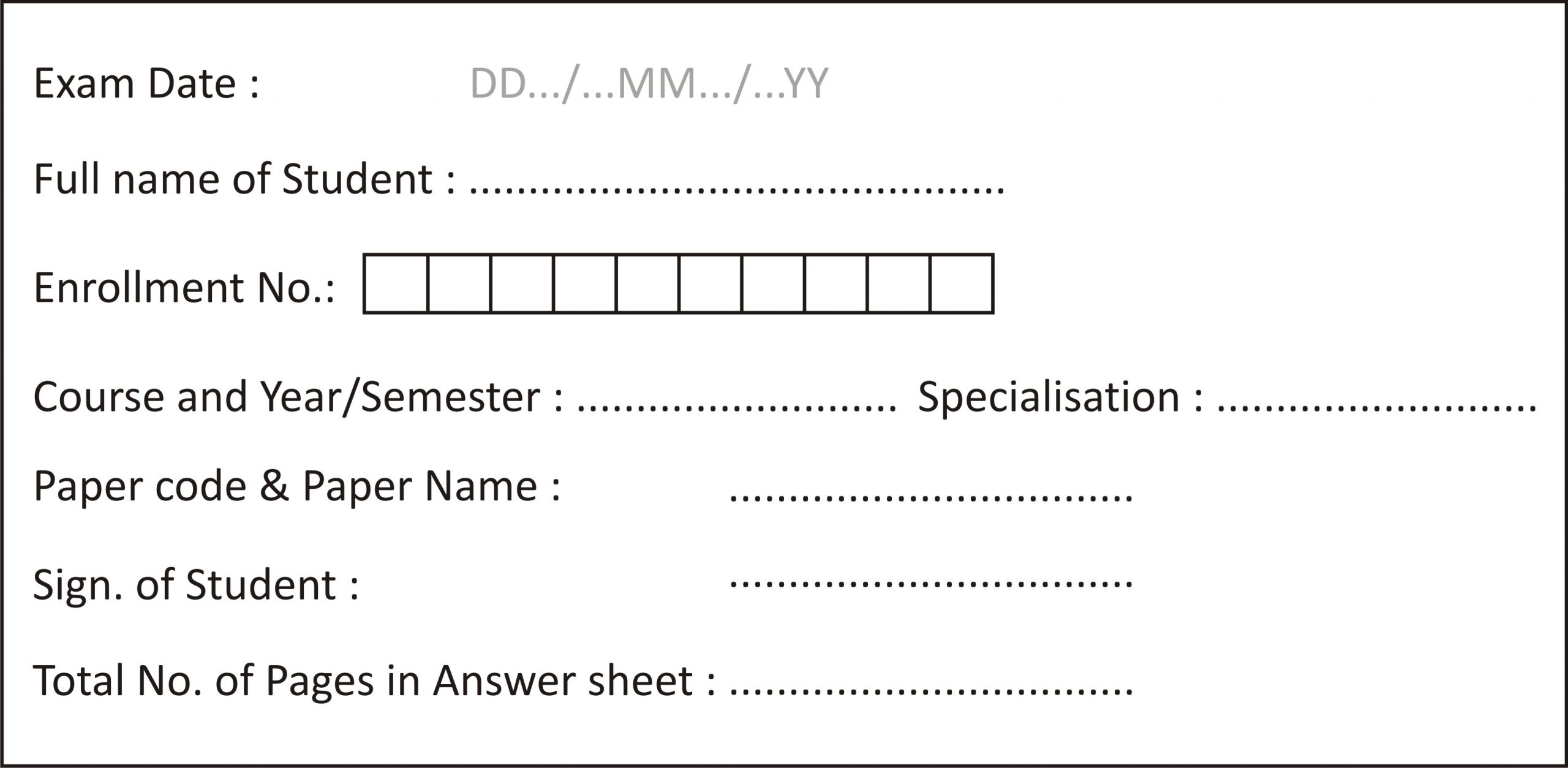 Inside Pages Format
****************